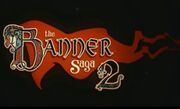 The Banner Saga 2
is a tactical role-playing video game developed by Stoic and published by Versus Evil. The game was released for Microsoft Windows and OS X on April 19, 2016, with PlayStation 4 and Xbox One versions due later.
Development
Edit
The Banner Saga 2 is developed by three-man indie development team Stoic. The game was announced at the The Game Awards on December 5, 2014. Initially, the game was scheduled to be released for the Microsoft Windows, PlayStation 4 and Xbox One in 2015. However it was later delayed into 2016. Windows and OS X versions were released on April 19, 2016, and PlayStation 4 and Xbox One in July 2016.
Gameplay
Edit
The basic aspects of Banner Saga 2 gameplay will be similar to what we saw in Banner Saga. This means the basic game play is a mix of turn-based and grid-based combat. On top of that combat style, there is a separate "Choose Your Own Adventure" laid on top. Sometimes the choices are who you want to take into battle and other times it's about deciding when your party is going to break camp. As in the other game, there are said to be choices based on whether or not you will go into combat or try and go around an area that has seen the Dredge attack or get near.
There are said to be new enemies including support units and four-legged creatures with new abilities that can actually come from off screen in the heat of a battle. This will call for more strategic decisions when it comes to where players move their forces on the battlefield grid. Banner Saga games don't include a "Fog of War" feature, so players can see exactly where all the enemies are on the board. Having players now come from off the main board is a big change from the previous version of the game. Stoic has said that there is still no permadeath for the characters in Banner Saga 2, so these tactics make the battle harder but will not rob players of the main characters.
The game is to be set in a Viking-inspired fantasy setting, with a visual style influeced by Eyvind Earle's art for the 1959 Disney film, Sleeping Beauty, as well as the works of Ralph Bakshi and Don Bluth. The art is primarily hand-drawn animation sequences.
Ad blocker interference detected!
Wikia is a free-to-use site that makes money from advertising. We have a modified experience for viewers using ad blockers

Wikia is not accessible if you've made further modifications. Remove the custom ad blocker rule(s) and the page will load as expected.