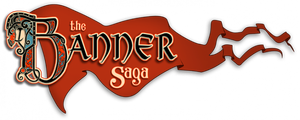 The Banner Saga
is a Viking-themed tactical role-playing game developed by
Stoic
, a trio of indie game developers formerly of BioWare. The game includes a three-art single player campaign and a multiplayer game, entitled
The Banner Saga: Factions
.
Development
Edit
Developers Alex Thomas, Arnie Jorgensen, and John Watson left BioWare after the completion of Star Wars: The Old Republic, with the intention of creating a new project. The Banner Saga would be financed through crowd-funding via the website Kickstarter. The project officially began on March 19th, 2012 and met it's goal of $100,000 over the course of the next day. When the funding project concluded, The Banner Saga had accumulated a total of $723,886 from 20,042 backers.
The game is set to be distributed digitally as a DRM-free download, beginning with Windows and Mac platforms, with later ports coming to Linux, iPad, PlayStation Network, and Xbox Live Arcade. The game was originally schedule for a November 2012 release, but the single-player campaign is now set for a 2014 release, following the February 2013 release of the multiplayer component, The Banner Saga: Factions.
The Banner Saga's core mechanics involve turn-based combat engagements, similar to games such as Final Fantasy Tactics and Shining Force, with the player controlling a party of characters with various abilities. The game's story aims to create a mature game for adults, engaging players emotionally by allowing them to build relationships with the game's characters and shape the outcome of the story.
The turn-based multiplayer combat component was released on Steam as a free, standalone game. It allows players to create teams of six combatants, chosen from 16 classes, to do battle against each other.
The game is to be set in a Viking-inspired fantasy setting, with a visual style influeced by Eyvind Earle's art for the 1959 Disney film, Sleeping Beauty, as well as the works of Ralph Bakshi and Don Bluth. The art is primarily hand-drawn animation sequences.