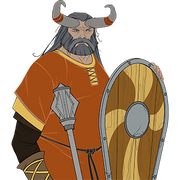 Mogr is an old hand in varl culture, long on the frontline of the fight against the dredge. He's had the occasional brush with leading a clan of his own. but eventually settled well into commanding Vognir's personal army of varl warriors, and is highly respected amongst them.
Joining the party
Edit
Mogr is a member of the varl caravan at Chapter 1 and Chapter 3. If he survives Ridgehorn, he can also help in the final battle.
Ad blocker interference detected!
Wikia is a free-to-use site that makes money from advertising. We have a modified experience for viewers using ad blockers

Wikia is not accessible if you've made further modifications. Remove the custom ad blocker rule(s) and the page will load as expected.